We are all looking for fun and EASY treats to bring to practices and games, so this month we are doing a series on sports themed foods. These sweet treats were a breeze to whip up and came out so cute, don't you think??
What you need:  brownie mix (or two)  and required ingredients, powdered sugar donut holes, pack of Twizzlers Pull 'n' Peel Candy
, and Baseball Glove Cookie Cutter
, foil
Start by making your favorite brownies.  My tip: line your baking dish with foil before pouring in the batter.  It makes it SO much easier to get out of the pan and will save you a headache…trust me!! 😉
Cookware, Pots/Pants, etc. You'll Need
Here is a list of what you'll need to prepare this recipe: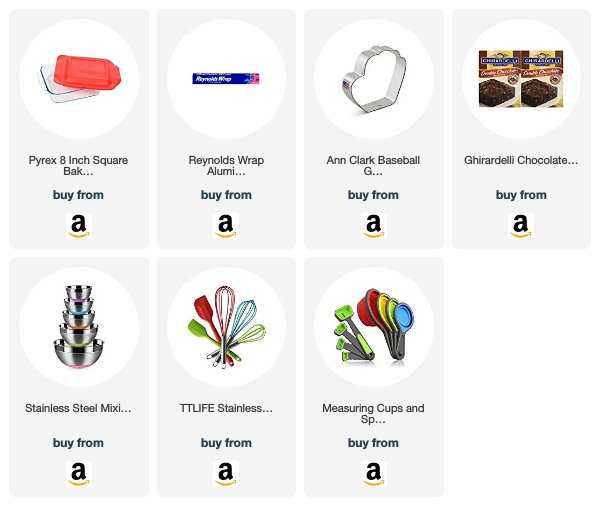 While the brownies are baking, you can make all your "baseballs".  Start by cutting a little bit off one side so you have a flat surface and they don't roll off the glove.  Then use a knife to make small curved slits to form the stitches of the ball.
 Pull apart a few strands from a Twizzler and carefully push it into the grooves you made with the knife.
After the brownies have mostly cooled, use the glove cookie cutter to make the gloves.  I got 6-7 gloves per pan.  (The extra brownie pieces will not go to waste, I promise!!)
 Add the balls to the gloves and you are done.
The kids loved these and they weren't only cute but they are delicious…I mean who doesn't love brownies and donuts? 😉
These would also be great for a BASEBALL THEMED party!!
Check out more of our fun sports themed food…