There are those days that I plan ahead for dinner (it's not too often, but it happens). 😉 Do you have them?  They are normally days that are completely filled with tasks/activities every waking minute.  On those days, if I remember, I like to get dinner started that morning before the chaos begins.  One of my family's favorite meals is my 4 ingredient pot roast.  It's such a hearty, filling meal and with this recipe it only takes me a few minutes to get going.
Ingredients:  pot roast, can of Coke, bottle of barbecue sauce, one packet of onion soup mix.
 You just dump the barbecue sauce, Coke and onion soup into a crockpot and stir it together until it's fully mixed.  Then add the roast and set to low for about 8-10 hours.  I suggest putting the roast in with the fat side up. The prep for this dish is 2 minutes top!
 If I have time I like to take it out of the liquid and let it rest for about 10 minutes.  Then I slice it and put it back into the juices until we are ready to eat.
 To round out this meal I usually have some type of green veggie and mashed potatoes.  I normally cheat on the mashed potatoes and use the pre-made version from the refrigerated section of the store.  I also have a freezer  version that I will share with you a little later! 😉
You can download and print the recipe for free!
Cookware, Pots/Pants, etc. You'll Need
Here is a list of what you'll need to prepare this recipe: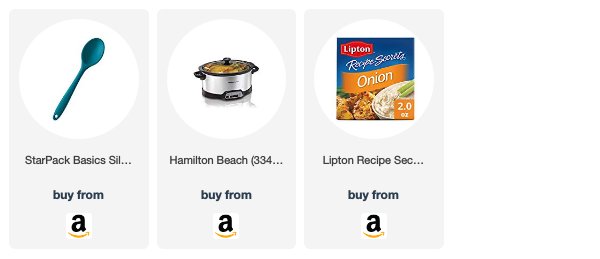 4 Ingredient Pot Roast | Slow Cooker Meal
This recipe only has 4 ingredients and takes just a few minutes to prepare. It's a family favorite!
Author:
Sports Mom Survival Guide
Ingredients
roast
18 oz bottle of barbecue sauce
1 can of Coke
1 packet of onion soup mix
Instructions
Dump the Coke, onion soup mix and barbecue sauce into a slow cooker and thoroughly mix together.
Put roast, fat side up, into liquid mixture and set slow cooker to low.