We had this years ago at a friend's house. It is so delicious…there was not a morsel of leftovers on this one. Next time, I will have to make more. You can vary the inside ingredients to what your family loves…the fillings are really endless! I took one section of this and made a filling with just the chicken, cheese and mayo for my picky eater. And she loved it also!
Cookware, Pots/Pants, etc. You'll Need
Here is a list of what you'll need to prepare this recipe: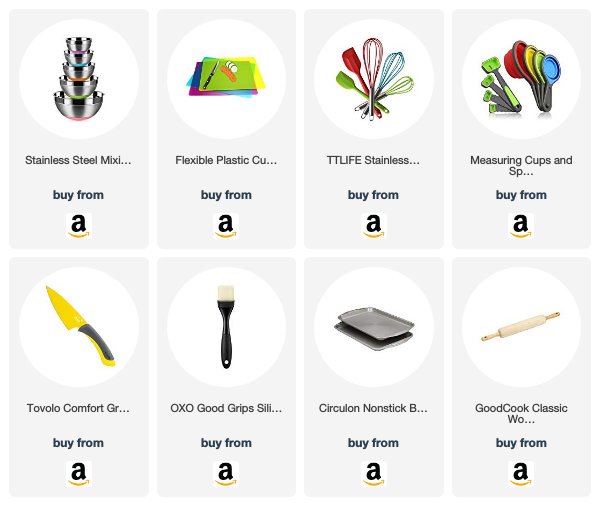 Chicken Broccoli Braid
Ingredients
2 cups cooked chicken
1 cup broccoli florets
½ cup diced red bell pepper
1 cup shredded cheddar cheese
½ cup mayonnaise
2 tsp fresh chopped dill
1 minced garlic clove
¼ teaspoon salt
2 packages refrigerated crescent dough
2 Tbsp slivered almonds
Instructions
Preheat oven to 375° F. Place chopped chicken and broccoli in a large bowl. Add chopped bell pepper, garlic, cheese, mayonnaise, dill and salt. Mix well.
Unroll crescent dough and place longways on a pan. Seal edges using fingers or a rolling pin. On the longest sides, cut dough into strips 1½ inches wide and 3 inches deep using a sharp knife. Keep 6 inches in the middle for filling made in Step 1.
Spread filling evenly over the middle of the dough. To braid, lift two opposite strips of dough, twist once, then lay over filling so that ends meet at the center. Lightly pinch ends together. Continue alternating strips to form a braid. Trim ends to seal at the end of the braid.
Brush egg white over dough and sprinkle with slivered almonds. Bake for 25-28 minutes or until deep golden brown.