When you are running around in the morning it's hard to remember to start dinner, but with just a few minutes you can have this dish ready to go!  It's beyond easy and only requires 3 ingredients (plus toppings when you get ready to serve).
This is literally a dump recipe…frozen chicken, enough water to coat the bottom of the crock pot, packet of taco seasoning and small jar of salsa.  You can customize as much or as little as you need for dinner.  When putting the seasoning and salsa, adjust the amount in proportion to the chicken.  You want a generous coat of seasoning and salsa on top.
 Put the lid on the crock pot and set it to low.  After the meat is cooked (3 hours+) shred and place back in the liquid until you are ready to serve.
 This is a great meal for nights when your family can't all sit down to dinner at the same time.  It will stay hot as long as needed and people can make their plates when they are ready.
Have whatever toppings and either tortillas or corn shells ready to finish this meal off!
Cookware, Pots/Pants, etc. You'll Need
Here is a list of what you'll need to prepare this recipe: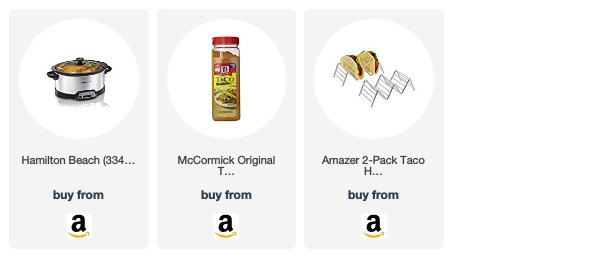 Crock Pot Chicken Tacos
A quick meal for a family on the go! This recipe is a dump and let cook all day, kind of dish!
Author:
Angela @ SportsMomSurvivalGuide.com
Ingredients
frozen chicken breasts (you can cook as little or as much as you need)
packet of taco seasoning (only use enough to cover the tops of the chicken)
jar of salsa
Instructions
Put chicken in crock pot add just enough water to cover the bottom. (Approx. ½ cup)
Sprinkle packet of taco seasoning and jar of salsa over the top.
Set to "low" and let cook 3 hours or until you get home from work!
Once the meat is fully cooked, shred and add back into the liquid until you are ready to serve.
Serve with you choice of toppings.