This Cinnamon Apple Bread with Almond Glaze is so unbelievably delicious! You won't want to stop with just one piece! The recipe was a bit of throw together which then turned out to be super fabulous.
A while back I pinned and made this Cinnamon Roll Pull-Apart Bread from Crazy for Crust. It, too, was so good, but took a bit of time to make. As much as possible, I try to make everything from scratch, but there are many times I need some shortcuts! That's what this blog is about!  We love trying to make things quick and easy for you.
Instead of making the homemade cinnamon roll dough, I used a loaf of frozen bread dough (I like the Rhodes brand). I let it thaw and warm to room temperature.
While the dough is warming, chop up about a 1/2 c. of apple ( I like Granny Smith for this recipe) and make the cinnamon filling (I used the same filling that Crazy for Crust used…it's so easy!)
Next, when the dough is ready, roll it out to about a 12″ x 20″ rectangle. Once it is rolled out, cut it into 18 smaller rectangles. Spread the cinnamon mixture on each of the dough rectangles. Then top with apples and crasins.  If you prefer not to add either or both, just leave them out of the recipe.
Make two stacks of the dough rectangles, then place one stack on top of the other, leaving the ends with no filling facing the outside.
Let your dough rise for about an hour–or until the dough fills the pan. Most of the time I am in a hurry, so i heat my over to 120 degrees and turn it off, stick the pan in the oven and the dough rises even quicker!
Bake the bread for 20-25 minutes, until the top is lightly browned. Let cool 10-15 min. While cooling, mix up the glaze. Remove the bread from the pan, pour the glaze on top of the bread and sprinkle with slivered almonds!
Cookware, Pots/Pants, etc. You'll Need
Here is a list of what you'll need to prepare this recipe: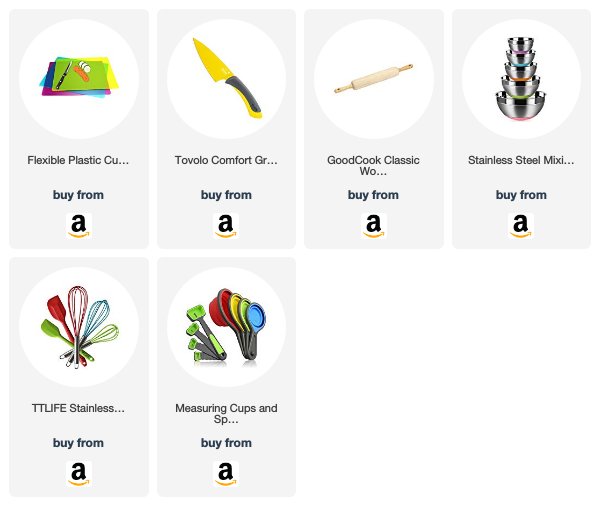 Cinnamon Apple Bread with Almond Glaze
Author:
Sports Mom Survival Guide
Ingredients
1 loaf frozen bread dough
FILLING:
3 tablespoons butter, softened
⅓ cup brown sugar
2 teaspoons cinnamon
2 tablespoons flour
¼ teaspoon salt
¼ cup Crasins
½ cup chopped apple
GLAZE:
1 cup powdered sugar
2 tablespoons milk
1 teaspoon almond extract
Slivered almonds
Instructions
Allow dough to warm to room temperature
Chop apples
Combine filling ingredients in a small bowl with a fork until well mixed.
Roll dough out into a 12" x 20" rectangle and cut into 18 pieces.
Spread filling on each piece, top with apples and crasins.
Stack dough pieces and place into a greased bread pan.
Let dough rise at room temperature about an hour or until it fills most of the bead pan.
Bake at 350 degrees for 20-25 min.
Let bread cool 10 min. Top with Glaze and slivered almonds.