This post brought to you by Farm Rich. The content and opinions expressed below are that of Sports Mom Survival Guide.

If you are anything like me, the holidays mean a lot gatherings and FOOD.  I love to entertain but I don't necessarily enjoy all the food prep.  I want things that quick and easy to throw together so I have the time to spend with my guests (and I'm not totally worn out by the time they arrive).
I made these meatball puffs last weekend for my Christmas party and everyone raved about them…I love how easy they are to make!
Quick Meatball Puffs
Ingredients:   bag of Farm Rich Snacks original meatballs, bag of shredded mozzarella cheese, package of frozen puff pastry.
For the sauce you need pizza sauce and ranch dressing.
Let the puff pastry thaw for a little while on the counter, then unroll and cut it into squares.  It's easiest to use a pizza cutter to make the cuts.
The squares need to be slightly larger than the meatballs.
Heat the meatballs in the microwave for a few minutes, then place a little cheese and one meatball on each puff pastry square.
Fold the ends of the dough up over the meatball and press them together to form a ball.
Line a cookie sheet with parchment paper or lightly spray with cooking oil, then place the balls seam down.  Bake at 350 degrees for 15-18 minutes.
For the sauce, mix 1/2 pizza sauce and 1/2 ranch dressing into a small bowl and stir until it is completely combined.  You can eyeball this, no measuring required! 😉
Here are a few more of my top tips for EASY ENTERTAINING:
Cookware, Pots/Pants, etc. You'll Need
Here is a list of what you'll need to prepare this recipe: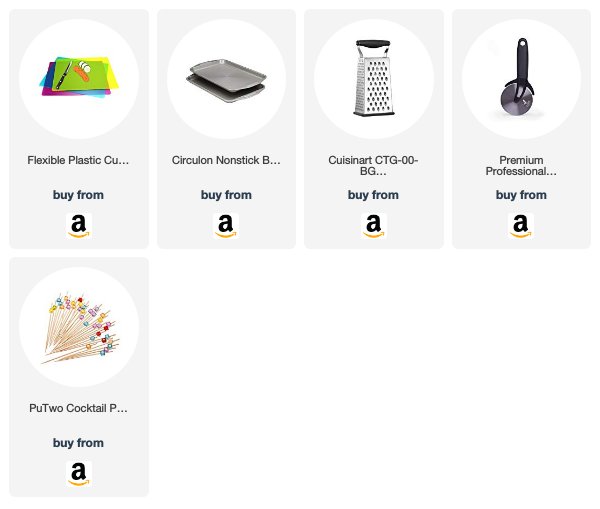 1.  Keep food simple.
You don't have to use elaborate recipes to make good food or a great display.  You also don't need to have TOO much of a variety.  I always like to have a few savory dishes and a few sweet ones.  This philosophy is true for drinks as well.
There are plenty of great simple recipes…just check Pinterest if you're stumped!  And don't underestimate the tastiness of pre-made, purchased foods. Farm Rich Snacks are perfect for when you need wholesome, quality, convenient food in a hurry! They are also made with 100% real cheese, are good sources of protein and calcium and have 0 trans fats!
2.  Shop your house for decor.
You will probably be pleasantly surprised at what you will find when you start looking around.  You can sometimes tweak a theme to make it work with what you already have.
3.  Let others help!!!
I think this is the most important and hardest one for me.  Nine out of ten times your guests will ask "What can I bring?"  LET them!  I know for me it's hard to let go of some of the control because I have a vision for what I  want it to look like. The majority of the time when people offer they are sincere about their intentions and genuinely want to help.   Take some of the stress away from yourself and let someone else fell good, it's almost always a win-win.
With that being said, be honest about your expectations.  I'm pretty particular about how I want things to look and my friends know this about me, so normally they ask me what my expectations are without me even mentioning it. I always appreciate people's help and it makes a party easier when you aren't doing everything yourself!
*********
Check out Farm Rich Product Finder to find a location and right now you can get $1.50 off 2 Farm Rich snacks.  For more ideas and inspiration, follow Farm Rich Snacks on Facebook, Twitter, Pinterest, and Instagram.