This post brought to you by Breyers. The content and opinions expressed below are that of Sports Mom Survival Guide.
As a busy parent, we all seem to be running from one thing to the next.  I don't know about you, but the easier something is the better…especially in the kitchen!  I LOVE quick, easy and delicous recipes.
A few weeks ago I tried this pound cake and peaches sundae and it was a hit!  The best part is that it only took about 10 minutes to whip up.
I got a pre-made pound cake in the freezer section and just toasted a few slices under the broiler, then made the topping…peaches, basil, lemon juice and a little sugar.  I topped the cake with a scoop (or two!) of Breyers Natural Vanilla ice cream and the peach topping.
The basil adds such a great punch of flavor and takes this dessert over the top.  I also love using Breyer's ice cream because they are commited to using high quality ingredients.  They source their milk and cream from cows not treated with artificial growth hormones* (which is REALLY important to me!) and their Natural Vanilla is made using sustainably farmed, Rainforest Alliance Certified™ vanilla beans.
Cookware, Pots/Pants, etc. You'll Need
Here is a list of what you'll need to prepare this recipe: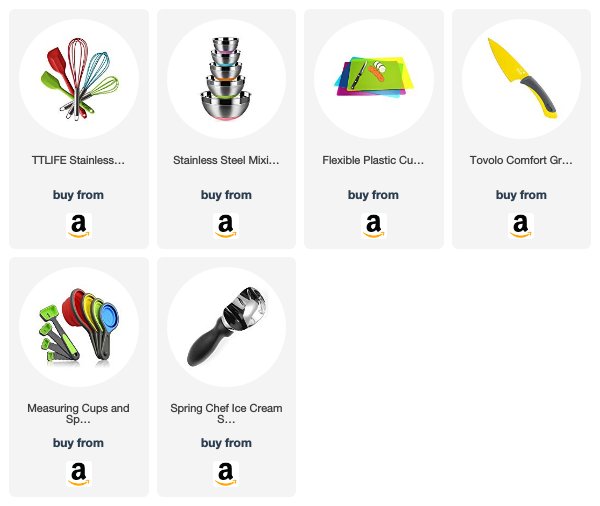 Chef Antonia Lofaso's Pound Cake & Peaches Sundae
Author:
Sports Mom Survival Guide
Ingredients
2 fresh peaches, diced
2 Tbsp. fresh lemon juice
1 Tbsp. granulated sugar
2 tsp. thinly sliced fresh basil leaves
4 (1/4-inch thick) pound cake slices
1 cup Breyers® Natural Vanilla Ice Cream
Instructions
Mix peaches, lemon juice, sugar and basil in a small bowl.
To make each sundae, place a slice of toasted pound cake on a plate, then top with a ¼ cup scoop of Breyers® Natural Vanilla Ice Cream and cover generously with macerated peaches.